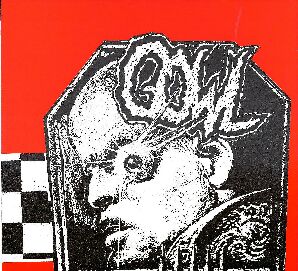 This record, fuck… is brilliant.  Gowl manages to do so much with so little.  The riffs, drumming, and song structures are primitive, yet unique.  The tones and recording production are ugly.  The lyrics are disguised in murk and sleaze.  The whole ordeal is uncomfortable.  The layout looks like it was rescued from the trash.  There also certainly isn't any street cred, hype, or bandwagoning.
This record has something for everyone-  there are riffs if you want them, and if not, sit back and enjoy the BBBRRRZZZZZZZZZZZ.  There is as much focus on rhythms and textures as there is on the riffs.  It works, even if you don't think that sounds like a good idea.  There is very little in the way of fills, intros, or breaks.  The blast beats are super fast at times, and occasionally insultingly choppy.  Amidst all this, on the B side, there is one distinct stand-out, and that's Bastard Song, with it's clean guitar section that in turn pounds so hard when the bass and drums kick back in.
The lyrics, are the lyrics printed inside?  I've seen them, but I don't think they're in there.  You can basically get a feel for them from the song titles.  That feeling is uncomfortable.  Gowl doesn't care what you think.  Is this grindcore? Is it noisecore?  Is it something else entirely?  Whatever it is, it's good.